Princeton Vitamins
Regular price
$19.95 USD
Sale price
$19.95 USD
Unit price
per
Sale
Sold out
Price includes FREE Shipping
Buy any 3 items and get 4th item at 50% OFF !!!  
add Coupon Code "BUY3GETHALFOFF4TH"
Three Branded Ingredients: Amlaac®, Curcuzen®, & Salsulin
Natural Sugar Formula & Blood Glucose Support
Weight Management
100% Vegetarian
Gluten Free & NON GMO
About the product:

Three Branded Ingredients: Amlaac®, Curcuzen® & Salsulin

Natural Sugar Formula & Blood Glucose Support

Weight Management

100% Vegetarian

Gluten Free & NON GMO
A Herbal Formula for Sugar Control, health and wellness* Princeton Vitamins is proud to introduce a new proprietary formula for healthy blood sugar and fat metabolism containing the following six unique Ayurvedic herbal ingredients. They include: AMLAAC®: a natural, water-extracted ingredient from the fruit of the Indian gooseberry, also known as Amla. Recent research in humans indicates that Amla is a rich source of Vitamin C, and may play a role in maintaining healthy lipids and blood sugar metabolism. Curcuzen®: a 100% natural curcumin ingredient containing 95% curcuminoids from raw turmeric. The ingredient has been tested and authenticated with the only official test method (14C carbon dating) to ensure it is natural and not spiked with synthetic curcumin. Curcumin has a vast body of scientific evidence demonstrating its antioxidant and anti-inflammatory properties. Salsulin: a propriety ingredient made from Salacia oblonga root, which is known to support healthy blood glucose metabolism. It has long been used in Ayurvedic tradition to maintain weight management. Recent clinical studies demonstrate that its bioactive components are shown to lower the rate of glucose absorption by inhibiting the alpha-glucosidase enzyme. These proprietary ingredients work synergistically with other herbal ingredients including: Fenugreek: known to support healthy postprandial glucose levels, with a long term effect on blood glucose metabolism. Bitter melon: for support of blood sugar metabolism. Cinnamon bark extract: known to enhance healthy blood glucose response. All six of these ingredients work together to support a healthy sugar and fat metabolism, as well as correcting imbalances in the body for overall wellness. *These statements have not been evaluated by the Food and Drug Administration. This product is not intended to diagnose, treat, cure or prevent any disease.
Interested in Bulk?
Individuals, distributors, or wholesalers who are interested in buying our products in bulk can contact us at 732-514-6620 or, send an email to:info@princetonvitamins.com
Share
View full details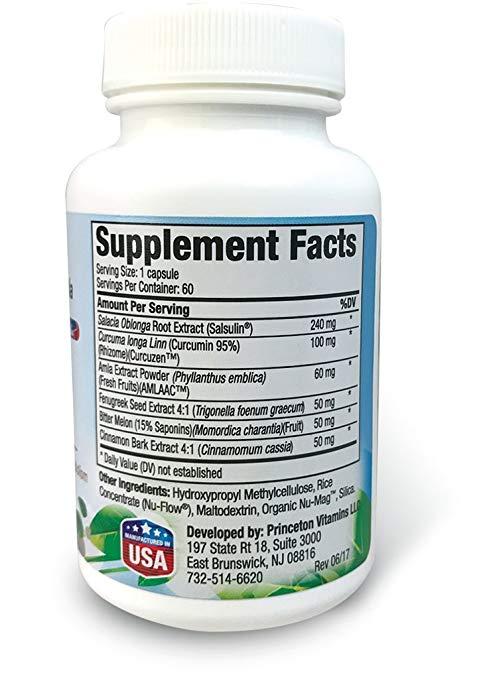 Answer your customers' common questions
Why is water extraction important?

Water is the most natural solvent possible and much more gentle than alcohol or other industrial solvents, like acetone or hexane, that can leave behind residue traces or alter bioavailability of a plant's active constituents. Princeton Vitamins uses water as a solvent.
Why is standardization important?

A ratio based herbal extract is made by extracting the biochemical constituents of a plant from its cellular structural components using a liquid solvent. The scientific method of standardization involves measuring and extracting a plant's compounds that are believed to be responsible for its active, health promoting properties. Products that are standardized are prepared to specifications/ratios shown to be.